Located entirely in the Savage River State Forest in Maryland, the Savage River flows for 30 miles, the last 5 of which, just below the Savage River Dam, represent a trophy trout area that's incredibly exciting to explore. The best way to explore this fishery that's both freestone and tailwater is to get on a fishing charter. You'll be able to quickly get to different fishing locations and have some real fun with your fellow anglers. Book your dream fishing charter today with FishAnywhere!The Savage River is an outstanding fishery where you can catch some pretty amazing trout, especially brown and brook. Being both a tailwater and freestone fishery, the river has the best of both worlds, so you definitely shouldn't miss it. If you're searching for your next angling destination, and you're excited about trout, you should definitely head to the Savage River as soon as you can.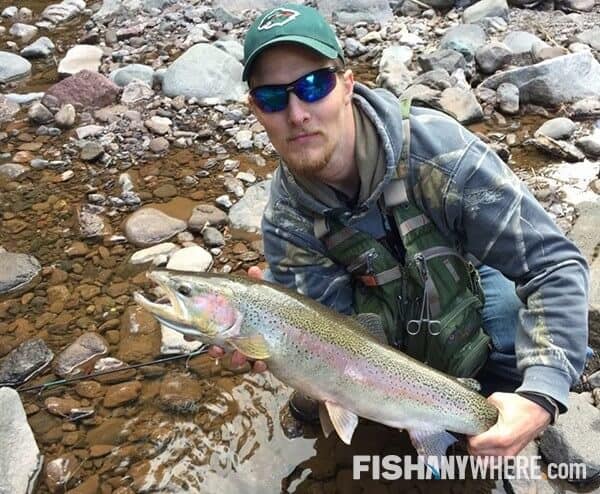 Fishing in the Savage River is not a year-round adventure, but don't let that stop you from visiting. Plan your fishing trip sometime between April and July, and you'll seize a lot of opportunities to get some trout on the line. Find a fishing trip to the Savage River today and plan an unforgettable fishing adventure today!
If you're an experienced angler, you're certainly familiar with fly fishing, spinning, and wading – the most popular fishing techniques that anglers use on the Savage River. If you're only just entering the wonderful world of angling and don't know how to reel in some fish yet, don't worry. Our fishing guides will be there to provide a helping hand should you need it.The Savage River is an ideal spot for catching trout, especially wild brook trout, and brown trout. But that's not all! You can also reel in some rainbow trout, though brook and brown trout are definitely in the majority. Book your Savage River fishing charter today and go cast a line for these amazing fishing opportunities!FishAnywhere can provide you with the best fishing charters all across the United States and Canada. Savage River fishing charters are some of them, so be sure to check them out. Our fishing charters are mostly private, which makes them perfect for families and friends. Gather your crew and come meet ours! Our fishing guides will guide your way and help you have a fabulous time you will cherish for the rest of your life. They're armed with years of experience in their field, so they'll take you to the best fishing locations along the river. Contact us today and book one of our available Savage River fishing charters. We guarantee that you'll absolutely love it!