Fishing in Kathleen Lake will leave you in awe. Countless picturesque lakes and rivers within a short driving or walking distance will provide you with nothing but world-class fly fishing and spin cast fishing opportunities. Located in Yukon, Canada within the Kluane National Park and Reserve, Kathleen Lake is truly a sight to behold. You can rest assured that a lot of exciting times are ahead of you, as fishing in the crystal-clear Kathleen Lake and the nearby rivers is a dream come true for every angler. Kathleen Lake boasts an excellent population of Rainbow Trout and Grayling, so get ready because FishAnywhere is your source for finding the best Kathleen Lake fishing charters.With many accessible fishing spots, fishing in Kathleen Lake is a one of a kind experience. You can find secret spots where the trout bite like crazy. With so much action in the water, it's no wonder that so many avid anglers are swarming in, hoping for the richest prize. Fishing in the stunning, beautiful, and clear waters of Kathleen Lake is truly a unique opportunity.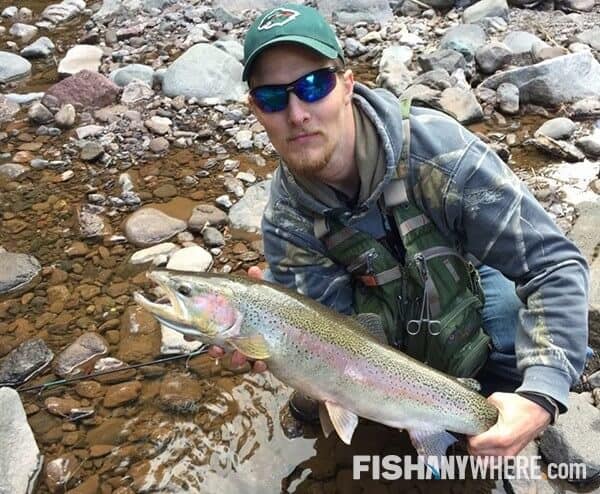 This may surprise you, since Canada's climate is rather cold, but the best season to fish Kathleen Lake is in February and March. These months are especially good for ice fishing, but all other fishing techniques work during these months also.
Kathleen Lake offers plenty of fishing opportunity since it's literally swarming with easy to catch fish populations. With that in mind, the most popular fishing techniques in Kathleen Lake are ice fishing, spinning, fly fishing, trolling, and jigging.When it comes to the rich fish population of Kathleen Lake, you can expect to find arctic grayling, rainbow trout, whitefish, river Namaycush, kokanee salmon, and lake trout. The turquoise-green color of the lake will only add to the entire experience, while visibility is exceptional. The entire natural composition of these majestic mountains with snow-capped peaks presents a very imposing and spectacular scenery, to say the least.With a wide array of adventurous fishing charters offered by our experienced fishing captains and guides, FishAnywhere will ensure a fun-filled Kathleen Lake fishing trip. Come and experience the outstanding and otherworldly natural splendor of Kathleen Lake and see for yourself how easy it is to catch all sorts of fish here. Alone or with your friends, family and loved ones, Kathleen Lake fishing charters are enough fun for all. Book your Kathleen Lake fishing charter today!