The tailwater fishery of Farmington River is well-known for its wild and unique species. Enthusiasts, hobbyists, and tourists alike flock down to its riverbanks to learn a few new angling moves and reel in some keepers. Thanks to the wide variety of opportunities this river creates, fishing the Farmington River is both easy and fun - the only thing you need is a group of passionate and adventurous people to accompany you. As soon as you find some, invite them onboard one of our FishAnywhere Farmington River fishing charters. Our fishing guides and captains can't wait to take you on a journey to the lake's best fishing spots.This almost 50-mile long Farmington River creates abundant fishing opportunities for both veteran anglers and rookie beginners. This river, being so generous and diverse, attracts rainbow trout and brown trout in multitudes. Whatever it is that you're pursuing to catch, we bet you'll be able to find it in this abundant fishery. Fishing the Farmington River is an adventure not be missed.
It's always a good time to take a trip down the Farmington River. Starting in late spring and lasting through first autumn months, the fishing season here is long and interrupted. This gives you the freedom to plan your perfect fishing trip for spring, summer, or fall - whichever you enjoy the most. The best time to visit this river is from March to September.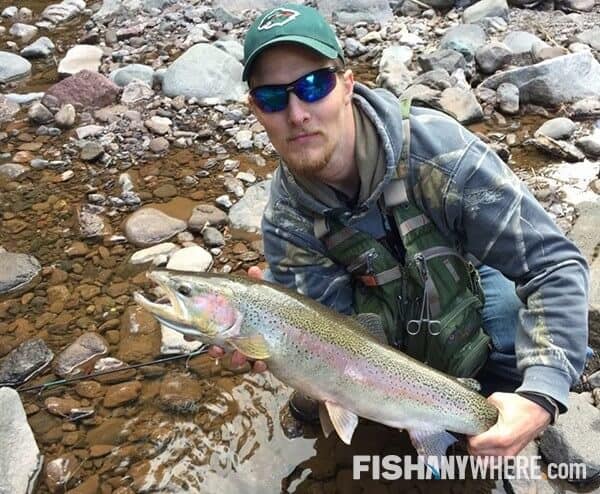 The most popular fishing technique on the Farmington River is fly fishing, but you can see locals everywhere catching keepers using spinning or wading as well. Take this river as an opportunity to have fun while learning new effective fishing moves. Fishing the Farmington River requires no special experience, we can promise you that! Just cast a line and wait.The word of Farmington River's diversity has spread fast through the angling circles, where this body of water is celebrated not only for its generous amounts of bass - smallmouth and largemouth alike - but also for more exotic species such as northern pike, chain pickerel, and American eel. The Farmington River is home to carp as well, but it's definitely known for its incredible abundance of trout.Our team at FishAnywhere is thrilled to contribute to your fishing adventure with our experienced fishing guides. Our Farmington River fishing guides will reveal the best-kept secrets and well-hidden fishing spots of the Farmington River. Check out our Farmington River fishing charters from our team of professional, licensed fishing guides today!