Saltwater fishing is becoming more and more popular. Many people are learning how to fish off the coasts of the United States, and other places around the world. It's not hard to see why this style of fishing has gained so much popularity. Saltwater fish like founder, mackerel, red drum, snook, tarpon, grouper, snapper, and seatrout are just a few of the species that have made saltwater fishing so popular. These fish not only make for great sport, but many of them make for amazing table fare as well!
Of course with this popularity comes an increased demand for many different supplies related to saltwater fishing. People want top shelf rods, and high quality reels spooled with premium line. But one of the most important pieces of equipment, the reel itself, can be quite expensive. Under normal circumstances, a high quality spinning reel can cost anywhere from $300 to more than $1000.
Fortunately for anglers on a budget there are some great saltwater spinning reels available for under $200. Let's take a look at our top 5 picks, updated for 2021!
Daiwa BG Saltwater Spinning Reels
The Daiwa BG lineup has become the "go-to" spinning reel at this price point, with size options ranging from 1500 to 8000, all at $150 or less. These reels are workhorses for the money, and can provide years of angling enjoyment with proper care.
The reel body is black anodized machined aluminum, reducing weight and increasing durability. The anodized finish will not chip or scratch as easily as paint. The oversized "Digigear" extends gear life, produces more reeling power, and provides smoother operation. A range of available sizes mean that there is a BG out there for nearly any target species, and ultimately, the Daiwa BG series is our top pick at this price point.
Daiwa BG Features
Black Anodized Machined Aluminum Housing ("Hard Bodyz" Body & Side Cover)
Over-sized Digigear (Digigear System)
Solid Screw-In Handle
Air Rotor
Dynamic Cut Aluminum ABS Spool
Braided Line Ready Spool
Waterproof Drag System
Carbon ATD
Machined Aluminum Screw In Handle
Manual Return Bail (4500 and Larger)
6BB+1RB
Infinite Anti-Reverse System (4000 and Smaller)
Infinite Dual Anti-Reverse System (4500 and Larger)
What customers like about the Daiwa BG Series:
Value for the Money
Durability
Smooth Action
Strong Drag
Materials and Finish
Penn Spinfisher VI Series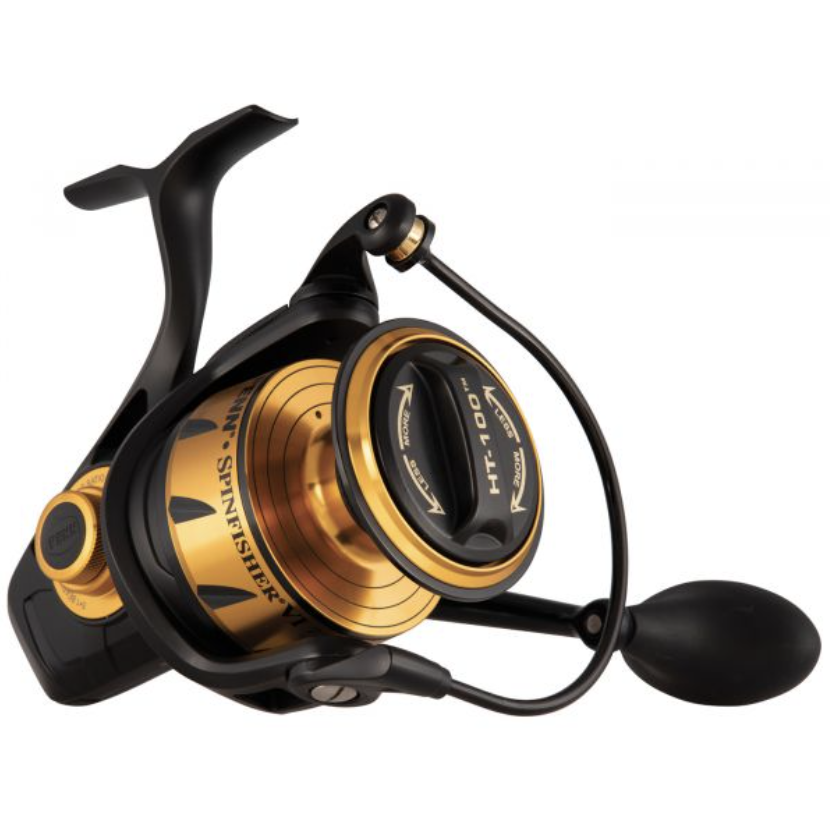 The Penn Spinfisher VI series closely rivals the Daiwa BG line in terms of value. Although the Daiwa is a fantastic all-around reel, the Spinfisher shines with its sealed body and spool. The Spinfisher gives up a bit of smooth operation to the BG series, but makes up for it in durability. As such, this reel is ideal for surf and kayak anglers, or anybody known to dunk a reel every now and then.
If this sounds like you, the Spinfisher is your next spinning reel. The larger sizes creep past our $200 price point, but still offer tremendous value. Additionally, the smaller Daiwa BGs are a bit lighter than equivalent sized Spinfishers, however the Daiwas become comparatively heavier in larger sizes.
Penn Spinfisher VI Features
IPX5 sealed body and spool design
CNC gear technology
Ht-100 carbon fiber drag washers
5 plus 1 sealed stainless-steel ball bearing System
Full-metal body
What customers like about the Penn Spinfisher VI Series:
Drag Power
Durability
Sand/Water Resistance
Value for the Money
Shimano Stradic FL
Shimano is known for their innovation in reel technology and functionality, and their value offering in the Stradic is no exception. The materials used contribute to a stunningly lightweight design, ideal for days of repetitive casting. Even the 5000 size is under 10 ounces! The reel also functions exceptionally smoothly, noted by users in countless reviews, and observed in our own testing.
Another noteworthy feature is the "Long Stroke Spool," which aids in line coming off the spool while casting. Users report a noticeably smoother and further cast with the Stradic. It may not be the workhorse that is the Spinfisher, but its light weight and casting capabilities make it ideal for pitching lures all day long inshore. These reels are a bit smaller, making it tough to label the Stradic as an amazing "all around" series, but this would be the reel to get if you primarily fish artificials inshore.
Although this reel pushes the limits of our $200 list, it is one worth reaching for if you are an inshore finesse angler!
Shimano Stradic Features
Hagane Gear
Hagane Body
X-Ship
MicroModule II Gear
Long Stroke Spool
SilentDrive
X-Protect
G-Free Body
S A-RB Bearings
Cross Carbon Drag
What customers like about the Shimano Stradic Series:
Exceptionally lightweight
Great casting distance, even with lighter lures
Notably smooth operation
Great value given the technology built into it
Great brand recognition and pedigree

Okuma Azores
The Okuma Azores series offers one of the largest reels at this price point, a 14000 capable of holding 400 yards of 20 pound mono! It also offers a very strong drag system at this price point, with some of the larger reels in the range boasting 44 pounds of drag. That is enough to tire out some of the scrappiest fighting big 'uns!
The Azores series also puts an emphasis on corrosion and water resistance, with corrosion resistant coating on internals and a water-tight drag seal. Starting around $125, the Azores is one of the best values on the list, however inshore finesse anglers may not find a reel small enough to suit their fishing style.
Okuma Azores Features
DFD: Precision Dual Force Drag system
Multi-disc, carbonite and felt drag washers for DFD
Quick-set anti-reverse roller bearing plus ratchet system
Precision machine cut brass pinion gear
CRC: Corrosion-resistant coating process
HDGII: Corrosion-resistant, high density gearing
ALC: Rigid diecast aluminum body, sideplate and rotor
MSS: carbon mechanical stabilizing system
Precision elliptical gearing system
Machined aluminum, 2-tone anodized spool with LCS lip
Machined aluminum handle arm for added strength
Hydro block water tight drag seal
Heavy duty, solid aluminum bail wire
1-year warranty
What customers like about the Okuma Azores Series:
Durability
Strong Drag System
Solid Construction
Sand/Water Resistance
Large sizes available at value price points
Penn Battle III
The Penn Battle III series is another line of reels that provide great value, well under our list's $200 price point. The reel is very similar to the Spinfisher VI mentioned above, but rings up a bit more inexpensively size for size. Anglers comparing the two will keep a few considerations in mind.
One differentiating factor is the IPX5 sealing featured on the Spinfisher VI. If you fish the surf or from a kayak, paying a few dollars more for this treatment is a no-brainer. If you are less likely to dunk or splash your reel with saltwater, it may not be worth forking over the extra cash. Another less significant, but still notable difference is in drag power. The Spinfisher VI typically has stronger drag on average size for size, although these couple of pounds are not likely going to make or break your next catch.
Penn Battle III Features
Full metal body side plate
CNC gear technology - Brass pinion/aluminum main (1K - 5K models), Brass/Brass (6K-10K models)
HT-100 carbon fiber drag system
5+1 sealed stainless steel bearing system
Line capacity rings
Superline spool
What customers like about the Penn Battle III
Line Capacity
Drag
Solid Construction
Great Value
If you are looking for the best saltwater fishing reels on the market, but have a limited budget of $200 or less, then one of these five reels could be perfect for you. All four brands offer effective spinning models that will last many years in tough conditions. Each brand also has their own unique features to consider when making your purchase decision. We hope this article helped narrow down your search!