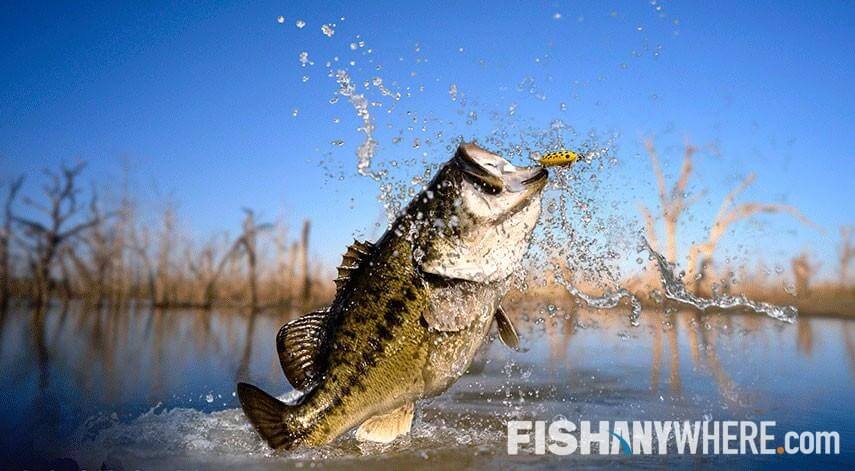 If you think judges in the Miss America pageant have a tough job narrowing down the finalists, you are correct, but that might be an easy task compared to trying to pick the top five best largemouth bass waters in the bass-happy state of Florida. There are just too many qualified candidates to choose from, however we are about to undertake the task. For starters, "best" is a word with a pretty broad definition. It can mean most excellent, to the highest degree, most desirable or just plain supreme. When you start using those definitions for bass lakes, you also have to decide whether big fish, largest number of fish or best average of fish is the most important. On this list, we try to consider all of that. And the winners are, in no certain order: 1. The St.
John's River system
Somewhere in this 310 mile long, slow-flowing river and lake system than meanders all the way from Jacksonville through almost the entire state, are more bass, more big bass and more bass fishing opportunities than maybe anywhere else. In fact, it's not even hardly fair to include it, because the river itself and dozens of river lakes that are formed and maintained by the river are just so massive. So are the bass that come from here. Many anglers believe that Florida's current 17.27 pound record will be broken here. The St. John's system has an enormous number of competitive tournaments, and in some of them, it takes a 30 pound stringer (five fish) to win and a 20 pound stringer doesn't even turn heads. There are big bass, numbers of bass and a big average size for bass. There is also every kind of cover you can imagine from lily pads, grass lines, rock beds and walls, flooded trees, drop-offs — you name it. The kicker is that one lake from this system would make this list all by itself, and that's Lake George, Florida's second largest lake covering 46,000 acres. Access to the entire river and all its lakes is available at dozens of major landings along the way. 2.
Lake Seminole
Lake Seminole is too big of a player in the largemouth bass game to even be contained in one state, as Florida shares this lake with Georgia. Seminole is a 38,000 acre lake located on the state's northern border near Chattahoochee. It has been a legend for longer than most people can imagine. It has huge bass in it and despite its age, it is thriving in numbers of largemouths as well. One of the prime reasons is that so much of the lake has lots of hydrilla grass, which serves as a fish producing habitat unlike any other. A good supply of freshwater and enormous hydrilla beds put the Seminole fish food chain on steroids. Check for licensing and special size limits before fishing the lake. A popular access spot is Lake Seminole Park on the eastern shore. It is a 250 acre county park that provides year-round public access. 3.
Rodman Reservoir
There's no other way to say it, Rodman Reservoir is a legend. Some say it's time has come and gone, but that isn't the case. The new lakes on the block are pushing it, but this 9,500 acre reservoir southeast of Gainesville is still a good one. The numbers of big bass that have been caught and documented here are huge. There is a catch. Rodman isn't going to keep you busy all day long. In fact, when things aren't right, you could get skunked. But bass in the 8 to 12 pound category are still registered on a weekly basis with the Florida TrophyCatch program. There won't be as many bites here as a dozen other places in Florida, but if it's a big one you want and a chance at a giant bag of bass, this might be the place to go. The Rodman Recreation Area and Orange Springs Recreation Area are two easy access spots for Rodman as are the Kenwood Landing and Cypress Bayou. 4.
Lake Tohopekaliga
Although it is arguably more difficult to spell the name of this lake than it is to haul monster bass out of it, spelling will be the last thing on your mind when you hook up to your personal best. big fish are a constant here. So are smaller bass and mid-range 4 and 5 pounders. The cooler months seem to be the best for big bass, and if you get there before the spawn, you'll find the biggest fish of the year. This lake covers 22,700 acres and is full of all types of aquatic vegetation, various depths of water and stumps and laydowns. It is those stump fields near the main river channel that are usually targeted by bass fishermen. Located near Kissimmee in Central Florida, there are several easy access points. Granada Ramp and Kissimmee Lakefront Park Ramp are both public, and there are numerous private fish camp ramps. 5.
Lake Istokpoga
There are 28,000 acres in this lake and despite its size, it sometimes gets overlooked because of all of the other local bass fisheries. Bass fishing for big fish is good throughout the year, and the bass are out in numbers. The lake is fairly shallow, ranging from 4 to 8 feet deep for the most part, but it is chocked full of largemouth bass. Bass up to 16 pounds have been caught here, and the fish have virtually every kind of structure you can find in Florida. The deeper water cattail stands along the shores and the bullrush that lines the lake's shores and islands are key to the rich food chain on the lake. Baitfish often school in the summer and the fish follow them wherever they go. Popular boat ramps are the Windy Point Boat Ramp and the 98 Boat Ramp.
Bass Fishing in Florida
Narrowing our list down to just five top bass lakes proved a difficult task. Many of our favorite lakes are certainly in the top 10 (Lake Eloise in Winter Haven and of course the incredible Lake Okeechobee), but that's another list for another day. Pick any of our Top 5 systems and we're sure you'll agree, there's no better largemouth bass fishery than the state of Florida!