The Antero Reservoir is located near the city of Hartsel in Colorado. Antero reservoir is an artificial lake created by the dam placed on the South Platte River. The lake's surface area is approximately 2,500 acres. It is one of the most diverse trout fisheries in Colorado. If you decide to visit this lake and cast a line, you will be able to catch many trout species. Ice fishing is very popular on this lake as well. During the winter, many fishermen visit this lake to experience the thrills of fishing through the ice. Embark on the fishing adventure of a lifetime today with an Antero Reservoir fishing charter!With so many hungry trout in its waters, Antero Reservoir offers many fishing hotspots. Be ready to catch a fish whenever you cast a line. Boat fishing on Antero Reservoir is a once in a lifetime experience. As we stated before, this lake is an ice fishing hotspot in the winter. Our fishing guides will help you find the best fishing spots only known to the locals. This can prove very useful if you are fishing in this lake for the first time.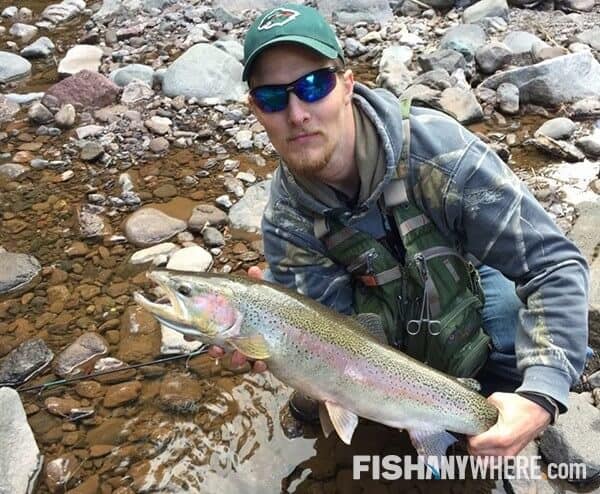 During the winter, the temperatures get very cold in this area. The Antero Reservoir is a shallow body of water which makes it easier for ice to form on its surface. If you want to experience true winter fishing, we advise you to visit this lake during the winter. Don't worry, the fish are very active, even during the winter.
As we have already stated, ice Fishing is immensely popular in Antero Reservoir. Spinning and jigging also yield results. But if you are a fan of fly fishing, you'll also yield great results with this technique too. If you want to try out something new, our fishing guides will be there to provide any assistance necessary.The Antero Reservoir has a very diverse fish life. But it is most famous for the many different trout species that live in its waters. The trout you can catch here are rainbow trout, brown trout, cutthroat trout, splake trout, brook trout, and cut-bow trout. But the list doesn't end here. You will also be able to catch: kokanee salmon, snake river, and greenback cutthroat.FishAnywere is the best source for Antero Reservoir fishing charter trips. Take a look at our listings and find available fishing charter trips in Antero Reservoir. We only work with the most experienced and professional fishing guides. We want to help you enjoy your fishing adventure just as you've imagined it. Check out our available Antero Reservoir fishing charters from our team of licensed fishing captains today!