Connecticut's Candlewood Lake will amaze you not only with its exciting fishing opportunities but also with its potential for fun and adventure. Amid pleasure boats and pontoons, our FishAnywhere Candlewood Lake fishing charters await merry groups of anglers to take them on an unforgettable journey. So, line up your family and friends and embark on the best fishing excursion of your lifetime. Our friendly team of experienced charter captains will be happy to have you onboard. There's one requirement, though - to bring your best mood and be ready to catch some envy-inducing trophies.The 5,400-acre surface of Candlewood Lake is the pride and joy of Connecticut, along with its 60-mile long shoreline that meanders through an imposing 10-mile area. Together, they create one of the best fisheries in New England and beyond. The picturesque waters of Candlewood Lake are best experienced first-hand, the way passionate fishermen from this region have been doing for years. For almost a century, fishing Candlewood Lake has been a pure enjoyment for thousands of anglers.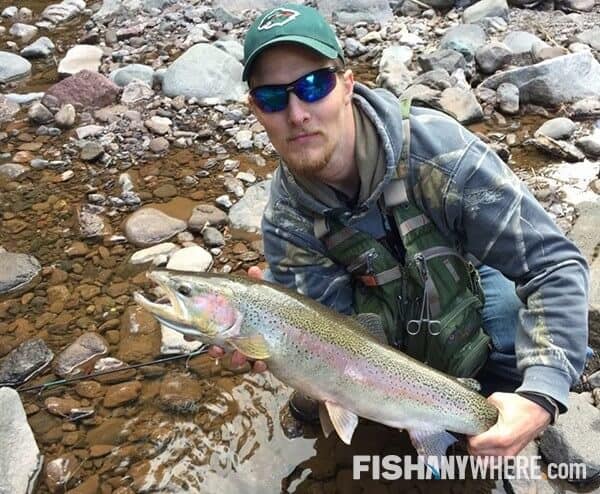 Candlewood Lake is most generous when its surface is sun-kissed. Warm summer months suit it well, transforming this fishery into a bottomless spring of keepers. Come bask in the sun with all the fish and experience the season in all of its glory. Candlewood Lake is quite an attraction during the summer months, but don't worry about that. There's enough fish, peace, and quiet for everyone.
You may be a passionate angler yourself or simply a casual enthusiast, Candlewood Lake will leave you breathless all the same. A pleasure to sail and a challenge to fish, Connecticut's largest body of water requires no special angling experience. You'll see locals fly-fishing, spinning, trolling, jigging, and even ice fishing in the winter for the lake's most exotic residents.You might have heard that Candlewood Lake is a smallmouth heaven and these anglers tales are absolutely true, though Candlewood Lake has more to offer than just smallmouth bass. Candlewood Lake boasts largemouth bass as well, along with brown trout, rainbow trout, white perch, yellow perch, white catfish, walleye, crappie, yellow bullhead, brown bullhead, bluegill, pumpkinseed, rock bass, and carp. Impressively diverse, this body of water takes home first prize when it comes to Connecticut's favorite angling spots.All this, and then some, is available with our FishAnywhere Candlewood Lake fishing charters. Let your angling crew join ours in an epic fishing adventure and learn a trick or two from our professional fishing guides. We promise you a fun and exciting experience on the water. Check out our Candlewood Lake fishing charters from our team of licensed fishing captains today!