Long overshadowed by the famous Arkansas tailwaters, the Cumberland River actually beats out many popular southern fisheries. Anglers from all over Kentucky flock down to its riverbanks to enjoy the view and sail off into the sunrise with a Cumberland River fishing charter. Join them together with your family and friends and experience this river's incredible angling opportunities first-hand. FishAnywhere offers you the most exciting group fishing adventures on the Cumberland River so that you can relax knowing that you'll get the best out of this amazing experience. Our Lake Cumberland fishing charters will take you to all the best angling spots!Whether you're young or old, experienced or not, come as you are to fish and enjoy the Cumberland River. This often overlooked tailwater is one of the most generous you'll ever sail! It offers not only picturesque sceneries and relaxing outdoor adventures but also an abundance of bass and trout. The Cumberland River has a trophy fish for everyone's taste, so let's discover and catch yours. Fishing the Cumberland River will never leave you empty-handed.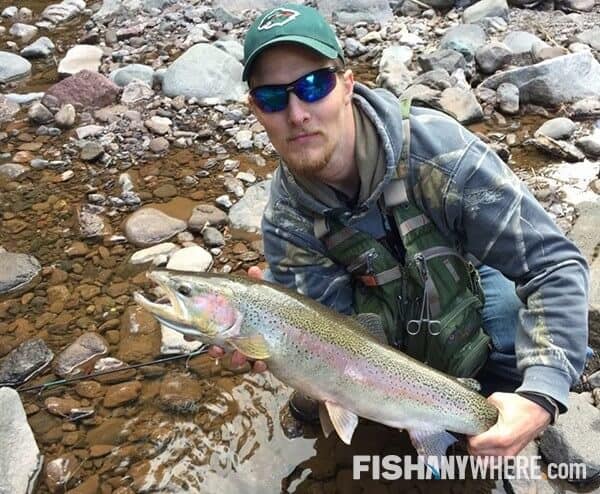 An avid angler would describe this fishery as magical even in the deepest winter, but the fact is that the Cumberland River is the most productive in the warm months of April and May. It's even better this way since this tailwater is never more beautiful than in springtime. The fishing season on the Cumberland River promises long, sun-kissed days that are great for both catching fish and creating memories.
Even though fly fishing, spinning, and wading are considered the most effective fishing techniques on the Cumberland River, anglers who come here don't need to strategize much. The only requirement for fishing the Cumberland River is passion - if you come in a great mood and cast a line from a good spot, you're guaranteed to catch a keeper or two. Plus, it is a nice opportunity to practice your skills.If you're looking for monster bass, then Cumberland River is the perfect spot for you! The rainbow trout population is just as abundant, making the Cumberland River a treasure trove of different subspecies. Without much effort, you'll be able to find striped bass, brown trout, and sauger, and also catch a few walleyes in between. Just relax and cast a line. Everything else will come naturally to you.Whether you're worried about how to find the best fishing spots on the Cumberland River or are planning a lazy family trip where you'll be able to kick back, relax, and have fun, our FishAnywhere Cumberland River fishing charters are an excellent fit for your needs. Our professional and experienced charter captains are waiting to reveal you all the best-kept secrets of this fishery. Check out our Cumberland River fishing charters from our team of licensed fishing captains today!