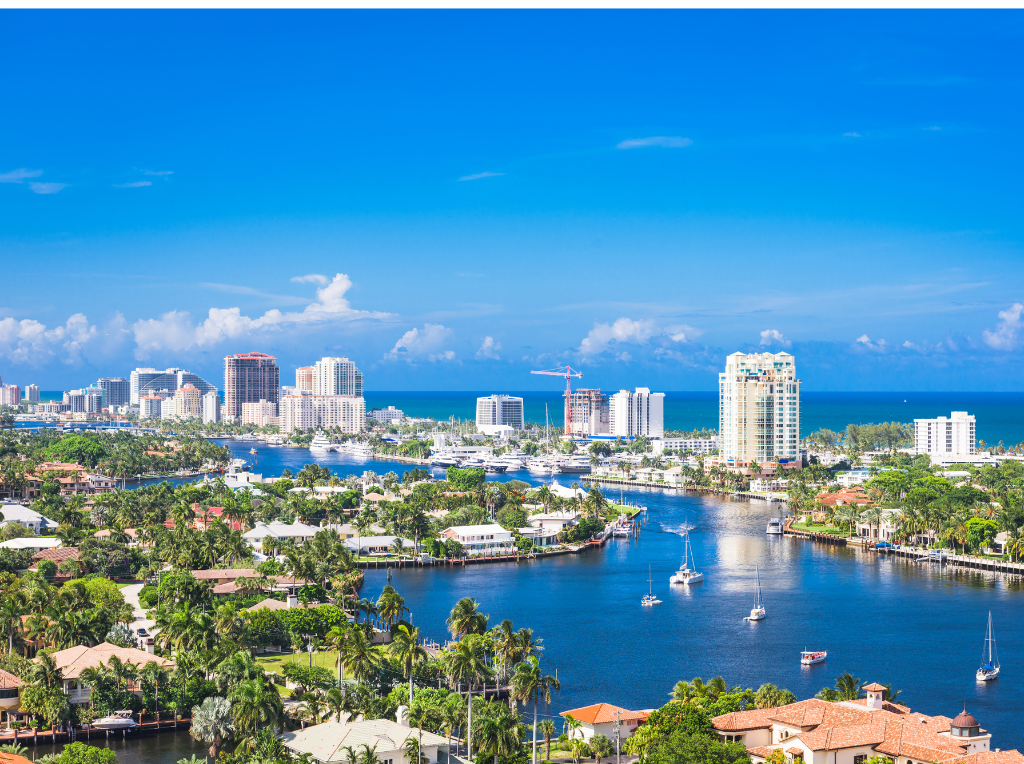 When you look to the East from the beaches of Ft. Lauderdale, Florida, you see the Atlantic Ocean, which covers about 20 percent of the world's total surface. That's a lot of water. But this city, featuring an eclectic blend of old and new, is known for some other water. It's often called "The Venice of America" and it's even part of the official city seal. That's because there are nearly 300 miles of canals that run through the area. You can even take a gondola ride in the canals. The city's waterfronts — ocean and canal— are lined with luxury venues, restaurants, shopping, and other attractions like the International Swimming Hall of Fame. Make no mistake about it. These Fort Lauderdale attractions may draw tourists, but the anglers in the bunch won't take long before they turn around and look at the deep blue waters of the Atlantic and think about the ample fishing opportunities beyond the horizon. It's easier to make a list of what can't be caught in these waters rather than the list of what can be caught.
Fort Lauderdale Deep Sea Species
Accessibility is one factor that makes Fort Lauderdale deep sea fishing so popular. The inshore fishing and fishing close to shore is fantastic, but the amount of great fishing for huge fish like blue and white marlin, mako sharks, mahi, sailfish and blackfin tuna in deeper waters is only a short boat ride away. One of the greatest fish concentrators in the world is the Gulf Stream, flowing right up the East Coast of Florida, and only 40-50 miles out from shore around Ft. Lauderdale. The Gulf Stream is a fish haven. The water temperature at the surface is usually in the 70's and slowly gets cooler the deeper you fish. There's a current that shifts annually, but experienced fishermen can find it and fish it with ease. That's why so many fishermen choose fishing charters for trips here. Anglers are able to catch pelagic species without booking an overnight trip. There are also thousands of queen snapper, snowy grouper, yellow edge grouper and tilefish mixed in with the big trophy sportfish targets mentioned above. One of the most interesting fish here is the blackfin tuna. They will bite almost any bait that you fish with, and can be caught trolling or drifting. Besides the Gulf Stream, there are countless offshore reefs and manmade fish towers that hold fish all year long. Many wrecks are also marked on maps and easily fished for prized catches like Cobia, permit, snapper, barracuda, Goliath Grouper, and sharks.
Fort Lauderdale Deep Sea Fishing Options
There are lots of choices of types of trips here and you can find one that will fit any budget. For starters, you can spend a day fishing on one of the area's piers for a modest fee. One of the top spots is Anglin's Fishing Pier, located at Lauderdale-By-The-Sea on the north end of the area. It's been there almost 60 years and stretches into deeper water — almost 1,000 feet off the beach. The next most economical trip is gathering up some friends and joining others on a party boat. These are usually larger boats that accommodate a large number of fishermen paying by the angler to go out to reefs and wrecks. Although it is an economical option, and makes for a fun family outing, these trips are usually too short and there are too many anglers fishing to really get hooked up to the monsters of the deep. While you will be fishing with a lot of other anglers, it's a good way to catch snapper, grouper and other bottom fish without a long trip offshore. Those looking to reel in a true Fort Lauderdale trophy will be interested in personal charters where folks like our FishAnywhere charter captains can put you on any types of fish in your own private party. Most charters provide everything you need for a successful day of fishing, including bait, tackle, fishing licenses, and even cleaning and bagging your catch for a fresh fish dinner! The private charters get you out to deeper ledges, humps and the Gulf Stream itself, sometimes hundreds of feet deep. A popular fishing method here is trolling around the floating debris or schools of baitfish. Anglers use some live bait, but there are many good artificials that work just as well. The big billfish are a challenge for a once-in-a-lifetime catch, but the most popular fish for sport and table seems to be the dolphin, or Mahi Mahi. These fish are beautiful with their flashing yellow, blue and green colors and they grow fast. When you get in a school of them, it makes the trip worthwhile. Whether you're looking to fill the cooler with Mahi or land the billfish of a lifetime, a Fort Lauderdale deep sea fishing trip is the perfect fishing adventure for you. Check out , and book your next trip on FishAnywhere.com today!