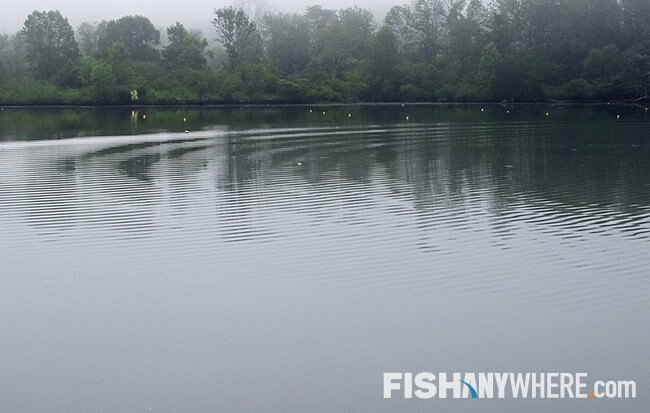 If you're thinking about exploring Alabama's beautiful lakes and rivers to catch some fish and simply enjoy being on the water, Bibb County Lake fishing charters are definitely a thing to consider. Fishing on Bibb County Lake is incredibly exciting and, if you book a Bibb County Lake fishing charter, you will be in for some of the best angling experiences of your life. Bibb County Lake is located 5 miles north of Centreville off Alabama Highway 5. Whether or not you live nearby, the lake should absolutely be on your list of top fishing spots. If you're looking to catch some crappie, then Bibb County Lake is definitely your best bet.Covering only about 100 acres, Bibb County Lake is quite small. Nevertheless, it's the perfect spot for catching crappie, as well as for having a very quiet and relaxed fishing trip. If that's your cup of tea, you will absolutely love this lake.
You can fish in Bibb County Lake at any time of year you want. The lake consistently drives in lots of anglers from all over the world, who are not put off by even the coldest weather. If you want to take a fishing trip in Bibb County Lake that will provide you with an unforgettable experience and leave you wanting for more, and book your Bibb County Lake fishing charter today.
Anglers fishing in Bibb County Lake commonly use fishing techniques such as spinning, fly fishing, trolling and jigging to reel in as many fish as possible. If you don't know how to use those fishing techniques but want to learn, Bibb County Lake fishing charters are a fantastic choice - a professional fishing guide is able to provide you a helping hand and teach the best techniques to use.Bibb County Lake is very small but offers plenty of fishing opportunities. It is mainly known for crappie, but you can also easily catch bluegill, largemouth bass, channel catfish and redear sunfish. Don't miss an opportunity to take a fishing trip on Bibb County Lake and get some of these impressive fish on the line. Choose a Bibb County Lake fishing charter at FishAnywhere and set sail for an outstanding fishing adventure!If you're attracted by fishing in Bibb County Lake you've come to the right place. FishAnywhere is the top provider of fishing charters in the United States, and there are lots of fishing trips you can choose from. Our professional fishing guides and charter captains are highly-skilled and experienced, not to mention incredibly friendly and fun to hang out with, so you can be sure that you will have the time of your life. Hurry up and book one of our available Bibb County Lake fishing charters and get ready to have a blast! today and a Customer Service agent will help you choose the perfect fishing charter for your needs!